Water service line inventory
Water and lead pipes
The U.S. Environmental Protection Agency (EPA) recently made changes to the lead and copper rules for water systems across the country to better protect communities from any potential exposure to lead in drinking water. Specifically, inventories of all service lines must be developed to identify lead services in preparation for their eventual replacement.
We take seriously the responsibility of providing safe and reliable utility services to our customers and work to ensure that the water we deliver meets all state and federal regulations, including the Safe Water Drinking Act.
Water safety and quality are the continuous focus of our Water System Operators, including frequent testing of water samples from throughout our system at our in-house lab and other state-certified labs. SWL&P has been providing water since the 1890s and our system is known to include some lead-pipe service lines. To help reduce potential contamination from those lead pipes, our water treatment process includes controlling the pH of the water as well as the addition of orthophosphate, a corrosion inhibiter, that helps to prevent lead from dissolving from pipes into the water. These controls have been proven effective through many years of water sampling from representative residences across the city.
You can follow simple practices to further reduce the potential for lead in your water; find out more in the Resources and Information section below.
Water service line inventory: what to expect
Completing a system-wide inventory of all service materials in our water system is the first step in meeting the EPA rule changes. We already have records for most of the service line material running from our water mains to customer property lines, and have hired a contractor to complete the inventory of all water services from the property line to the water meter.
Our contractor, HydroCorp, will contact you to make an appointment for verifying the piping materials at the water meter and on your property. The contractor must be onsite to inspect the material; customers cannot complete the verification themselves.
The visit will take only about 5-10 minutes. Someone 18 or older will need to be present to allow the inspector access to the area where the water meter is located, usually in the basement or a utility room. Remember to ask to see the contractor's identification badge before you allow entry. If you have any questions, please contact HydroCorp from 8 a.m. to 5 p.m. CST Monday through Friday at (844) 493-7641 or visit hydrocorpinc.com.
All water service pipe verifications will be completed by late summer 2024. The completed inventory will be reported to the Wisconsin Department of Natural Resources and we'll work with the DNR to develop a water service replacement plan for the lead and galvanized steel water services. We'll also work with the DNR to determine whether changes need to be made to how we currently test for lead and copper.
About lead
Lead is a common metal that has been used in many different applications throughout time, including plumbing materials and pipes, paint, gasoline and many other everyday items. As the harmful effects of lead on human health were better recognized, its use was stopped or limited in many items that could cause exposure.
The Wisconsin DNR website has additional information on the possible health effects as well as ways to reduce your exposure to lead.
If you want to have your water tested for lead, you can arrange for testing by a state accredited laboratory. The Wisconsin DNR maintains a list of accredited labs here: Laboratories | | Wisconsin DNR.
Resources and information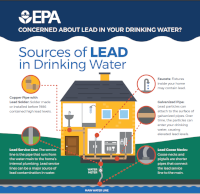 Lead In Drinking Water
Questions or concerns
If you have questions, call 1-800-227-7957 or email swlpquestions@swlp.com.